More than 25 years of experience with AC-drives in tow tractors
In the beginning it had something of a moody diva about it: the superior, almost playful way it impressed everyone with its performance seemed downright uncanny. It was said to be indescribably temperamental and hot-blooded, its boisterous energy, however, was often very hard to control. Its complex character gave a good many people who had to deal with it quite a few headaches and sleepless nights.
However this first impression was deceptive: whoever worked with it a lot was quickly impressed by its inner attributes, but they probably never guessed from its powerful and agile performance how economical and practical it is. What's more, they found it to be unbelievably smooth, sensitive and very responsive.
Of course we are not talking about an eccentric film star but AC technology. And VOLK was one of the first to recognize its full potential. In 1995, VOLK was the first tow tractor manufacturer in Germany to use three-phase drives. Although other manufacturers continued to use the established direct current drive to some extent for many years, it can be said in retrospect that this step ushered in the beginning of a new era.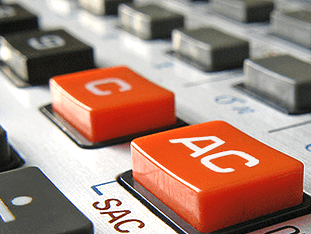 AC technology pays off – AC drives require little maintenance and are very durable
"The advantages of this new technology were so convincing at the time that despite some initial setbacks, we continued to test this complex technology until we mastered it. A short time later, we equipped our entire product range with AC drives," is how VOLK Managing Director Lutz Baur explains his decision to use the AC technology at that time.
In fact AC technology has become indispensable today due to its many advantages in industrial and airport vehicles. Three-phase motors are practically maintenance-free because current is not transmitted via carbon brushes but electromagnetically and therefore without contact. Because the driving direction is changed electronically, no direction contacts are required. Therefore it is not necessary to replace worn carbon brushes and contactors.
Because AC motors can be controlled more precisely, they enable very smooth driving. Changes in driving direction can also be performed more smoothly than with conventional DC motors. This is especially important because the application conditions of internal transport jobs frequently require precise maneuvering in confined spaces.
The new flagship ZAPI ACE 5 with a maximum capacity of 1.000 amperes – In 2009 VOLK was the first tow tractor manufacturer in the world to use the ACE 5 in a series-production vehicle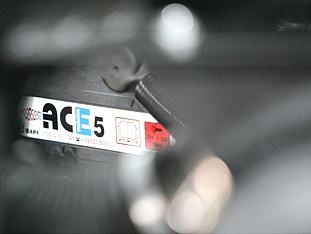 Despite their great sensitivity which everyone notices the first time they drive an AC vehicle, three-phase drives are generally more powerful and agile than direct current drives. They have a better torque characteristic with a virtually constant torque over a wide speed range and a comparably low torque decrease at high speeds, enabling higher driving speeds and extremely dynamic acceleration.
Real divas often keep their age a secret; but this is not the case with AC technology. Because after more than 25 years we have several million hours of experience in operating three-phase drives. This unique experience serves the continuous development of our products every day. So it was not without good reason that in 2009 we were the first towing vehicle manufacturer in the world to install the new ZAPI ACE 5 inverter with a maximum current of up to 1.000 amperes, launching our company into a totally new performance class.
VOLK Fahrzeugbau GmbH
Stahlstraße 15
88339 Bad Waldsee
+49 7524 9709 0
info@volk.de