Behind Bars – VOLK Electric Tractor in the Kassel Penitentiary
Some crime thriller scenes are so predictable and stereotypical that practically everyone knows them. For example, a prison escape – as the experienced TV viewer knows – begins most times in the prison laundry: when nobody is looking, the runaway vanishes in a laundry bag and then makes his getaway – hidden under a pile of sheets – in the laundry truck.
Presumably many an inmate in the Kassel I Penitentiary also shares this dream. The largest prison in Hesse is a maximum security penitentiary. The approximately 600 prisoners come from more than 60 different countries. For the most part they are serious offenders who in most cases have to serve long prison sentences.
When the brick building was put up almost 130 years ago, it was still in the open. Today, however, it is located – surrounded by a playing field, a botanic garden and many single-family homes – in the middle of the city. The gigantic prison building with its five meter high walls is completely out of place among the one- to two-story residential buildings. The four-story building with a star-shaped layout comprises an administration wing and four accommodation wings. The front sides of these wings are adjoined by extensions and annex buildings where the prison workshops are located.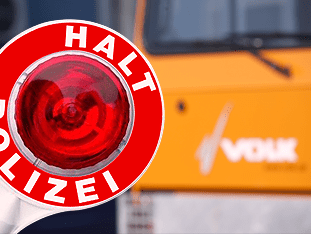 Unsuitable as a getaway vehicle – With its conspicuous signal-yellow paint finish and top speed of 28 km/h, the VOLK Electric Tow Tractor EFZ 25 N is hardly suitable as a getaway vehicle for a prison escape
There the prisoners have the opportunity to be employed on a regular basis or even complete vocational education and training during their term of imprisonment. During the day there is a frenzy of activity going on in the workshops. That's hardly surprising, considering the fact that about 300 prisoners are employed here. In addition to a joiner's shop and a metalworking shop, there is also a bakery and even a book bindery. And of course there is a prison laundry, too.
At the Kassel Penitentiary, four VOLK Industrial Trailers and one VOLK Electric Tractor EFZ 25 N are used for transport tasks which need to be done in the workshops. Thanks to its beefy and straightforward character the tractor has quickly earned respect even from the toughest jailbirds. And owing to its outstanding inner attributes – something you wouldn't normally expect "behind bars" – the EFZ 25 N has excellent ratings: from state-of-the-art AC technology with energy recovery to the aquamatic system for the traction batteries, the vehicle is equipped with practically every feature technically possible in an industrial tow tractor today.
The only thing the tow tractor is absolutely not suitable for is use as a getaway car. Although it enables absolutely silent movement thanks to its quiet electric drive, it is not inconspicuous at all: with its yellow-orange paint finish in the signal color RAL 2000, it is immediately noticeable even in the dark. And with a top speed of 28 km/h, even the most practiced escapee would not get very far. Well, some dreams are best left undreamt.
VOLK Fahrzeugbau GmbH
Stahlstraße 15
88339 Bad Waldsee
+49 7524 9709 0
info@volk.de