Diamonds are Forever – VOLK EFW 3 Protect at Geneva Airport
This auction can only be described in superlatives: In November 2011, the auction house Sotheby's auctioned off the biggest yellow diamond in the world at Hotel Beau Rivage in Geneva. When the hammer fell, the stone that bears the name "Sun Drop" was sold for a sum of 9.1 million euros to an unidentified telephone bidder following a breathtaking bidding contest. "That is a record price for a yellow diamond", according to a speaker of the auction house following the bidding.
The precious stone, weighing roughly 110 carats, was discovered in South Africa in 2010. Before the rare jewel was put up for auction in Geneva, it had taken a great journey. The rough diamond was cut in New York. Subsequently it was presented to the public in the Museum of Natural History in London and in Hong Kong. It first arrived at Geneva Airport shortly before the auction.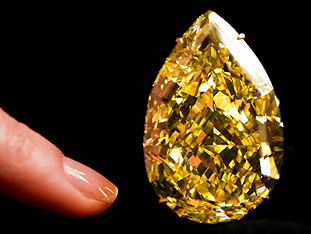 A diamond may last forever, but it shouldn't end up in the wrong hands – The 110 carat diamond "Sun Drop" was auctioned off in Geneva for a price of 9.1 million euros
When diamonds, jewelry, watches and other items of great value are transported via air freight, they are shipped in specially secured and officially sealed containers. After the arrival of the aircraft at Geneva Airport, the valuable cargo is transported by Swissport, a handling company specialized in the freight of security transports, with armored VOLK EFW 3 Protect electric transporters, which take it from the aircraft and bring it to a building complex, where the valuables are received after passing through dual-secured locks, and where they are safely kept before being transported further.
In the 1971 James Bond movie "Diamonds are Forever", Sean Connery demonstrated how easily and inconspicuously diamonds can be transported, when the need arises. The classic motion picture shows, too, that the transport of such valuables can be quite a dangerous undertaking. It seems that sinister figures, who have an eye on the valuable cargo, are lurking everywhere. The Swissport staff, however, would at best only break out in a sweat when they see a scene like this in the movies.
Bullet proof – The EFW 3 Protect armored electric transporters are made of special alloyed steel armor and are outfitted with panes of safety glass that are centimeters thick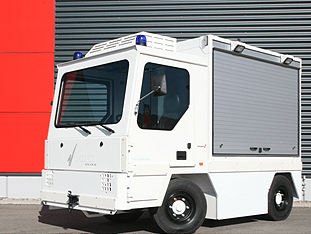 In day to day business, in comparison, sophisticated safety precautions prevent thieves from having any chance at all. The comprehensive security measures include several electrically driven armored vehicles. The armored EFW 3 Protect electric transporters are made of special alloyed steel armor and are outfitted with panes of safety glass that are centimeters thick. They provide room for up to three tons of loading capacity in their spacious container structure.
The Swissport employees usually don't know exactly what they are transporting in their cargo hold. But it is easy to imagine the enormous value that adds up with three tons of payload. And for all of those whose imagination fails them, here is a little calculating aid published recently in the Frankfurter Allgemeine newspaper: "In gold, 800.000 euros weigh twenty kilos; in diamonds only eight grams", was the information for its readers.

Aeroport International de Genève – Geneva Airport is the second largest airport in Switzerland and is a key hub for the international valuables transport industry
A powerful 20 KW three-phase current motor drives the EFW 3 Protect vehicles. With a maximum drawbar pull of 21.000 N, they can pull trailer loads of up to 30 tons, when required. A traction battery with the huge capacity of 80 V/1.000 Ah thereby guarantees extensive reach. These are all very impressing data. But when it comes to the timeless beauty of a diamond, figures like these are nothing more than hot air.
The high bidder and new owner of the "Sun Drop" is, by the way, unknown. But in all likelihood, the precious stone will board an aircraft for its next journey. The EFW 3 Protect security transporters are ready and waiting…
VOLK Fahrzeugbau GmbH
Stahlstraße 15
88339 Bad Waldsee
+49 7524 9709 0
info@volk.de