Underground – VOLK Electric Tow Tractor in the water tunnel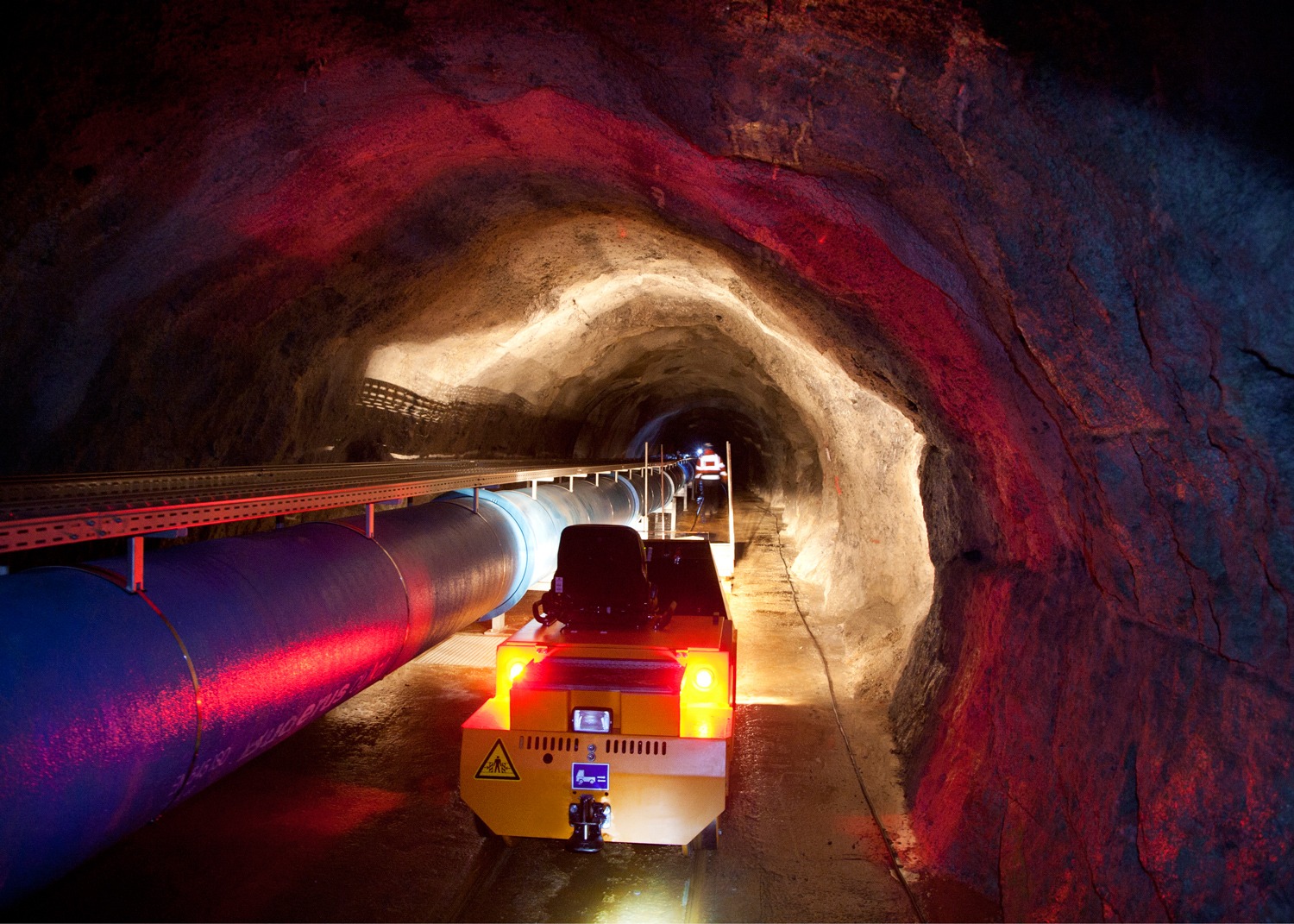 Vienna is famous the world over for its historic coffeehouses. People from all walks of life meet here to discuss the news of the day and to leisurely read the newspaper over a cup of coffee. In the Austrian capital, the obligatory glass of water served with coffee is traditionally supplied from the city's water main.
It comes as no surprise that Vienna is also widely known for its outstanding water quality, especially since the city's drinking water is directly piped from the Lower Austrian-Styrian Alps. Indeed, no other metropolitan area can offer its citizens the luxury of supplying the entire city with crystal clear, fresh mountain spring water. With a daily water demand of up to 500.000 cubic meters, this requires an elaborate infrastructure.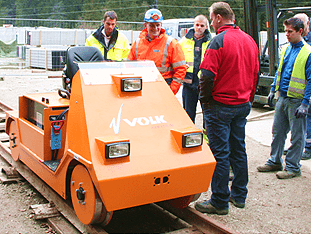 On Rails – The specially adapted VOLK Electric Tow Tractor EFZ 20 K is equipped with stainless steel wheels so it can move on the tracks in the tunnel
Two gigantic water lines form the backbone of Vienna's water supply: the headwaters of the 112 kilometer long First Vienna Mountain Spring Pipeline, inaugurated on the occasion of the world exhibition in 1873, encompass the Schneeberg, Rax and Schneealpe mountains. The Second Vienna Mountain Spring Pipeline, completed in 1910 and 183 kilometers long, is fed from springs in the Hochschwab massif. Together the headwaters of both pipelines cover an area of about 600 square kilometers. On the up to 36-hour journey from the headwaters to the Habsburg metropolis, the water is conducted through valleys in several aqueducts and crosses entire mountain formations in countless tunnels.
Ongoing maintenance and restoration work is required to ensure a consistently high water quality – after all, a major part of the construction dates back to the Imperial Era. Again and again the pipelines have to be replaced or electric systems and lines have to be modernized in single sections. This work proves to be especially difficult in the narrow, often mile-long tunnels, where particularly material transport is a big challenge.
Underground – VOLK Electric Tow Tractor EFZ 20 K during maintenance and restoration works in the Wetterin Tunnel close to the Styrian town Mürzsteg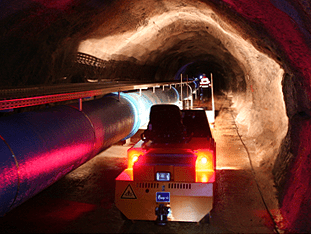 Transport tasks of that kind are performed using a specially equipped VOLK Electric Tow Tractor EFZ 20 K. Thanks to its compact dimensions and its emission-free electric drive, the vehicle is excellently suited for underground use. The vehicle has stainless steel wheels which enable its operation on the rails in the tunnel. A powerful 2 x 5 kW AC twin motor drive keeps the vehicle running smoothly and an electronic differential lock ensures that the power can be reliably transformed into drive traction in the damp tunnel.
These are all technical refinements which get the experts excited. Certainly coffeehouse guests in Vienna hardly give a thought to them when they round off their coffee with a big sip of water. But that would probably be asking too much.
VOLK Fahrzeugbau GmbH
Stahlstraße 15
88339 Bad Waldsee
+49 7524 9709 0
info@volk.de